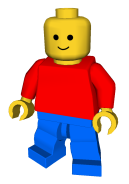 Bob is LEGO Universe's mascot. Many vendors in Alpha used his texture, and wore different gear. He can also currently be seen on the log-in screen. His primary purpose is to help new minifigures on the Venture Explorer, and the game files refer to Spaceman Bob, which could be him in a different area.
thumb|300px|left|This is an alpha video of Bob featuring early forms of today's emotes.
Ad blocker interference detected!
Wikia is a free-to-use site that makes money from advertising. We have a modified experience for viewers using ad blockers

Wikia is not accessible if you've made further modifications. Remove the custom ad blocker rule(s) and the page will load as expected.