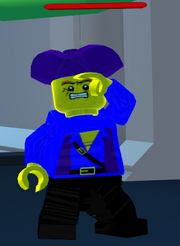 Evil​ Pirates
were enemies in Pre-Alpha
Gnarled Forest
, and they looked like normal minifigures. They came in 2 variations, one with a Purple Pirate Hat, Blue Pirate Shirt and black pants and another with a Brown Pirate Hat, a Red Pirate Shirt and Brown Pants.
Despite never being added to any currently released world, an Evil Pirate was spawned in Nexus Tower on December 23 2011, in the Sentinel War Room. The Pirate was spawned by a GM named Shival and used a maelstrom-like variation. The Pirate had a red health bar, and it did not seem to notice or attack any players. No one could damage the Pirate, despite his health bar appearing.
Ad blocker interference detected!
Wikia is a free-to-use site that makes money from advertising. We have a modified experience for viewers using ad blockers

Wikia is not accessible if you've made further modifications. Remove the custom ad blocker rule(s) and the page will load as expected.