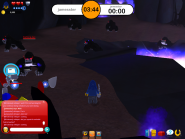 Gnarled Forest Survival was a minigame located in Gnarled Forest. To play, players had to use quickbuild to build an Idol Model for Reene Tombcrusher. To unlock the quickbuild, players had to use a Rank 3 Thinking Hat Showcase. Stromling Pirates, Admirals, and Apes spawned rapidly during the mini-game. This minigame was scrapped after Alpha testing, and it is unknown whether it would have appeared later if LEGO Universe had not been closing.
Up until the middle of Beta, the achievement for building Reene's Idol could be found in the Gnarled Forest section of the passport.
Gnarled Forest Survival never made it into Beta, only to be seen in Alpha.