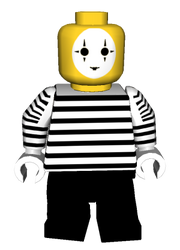 The
Mime
was a pre-alpha NPC in
Nimbus Park
. When interacted with he performed mime tricks, like some of the NPC's in Lego Club. The Mime was scrapped before Alpha started, however.
On December 19, 2011, the mime was spawned along with alot of other alpha NPCs by the GM Shival.
Ad blocker interference detected!
Wikia is a free-to-use site that makes money from advertising. We have a modified experience for viewers using ad blockers

Wikia is not accessible if you've made further modifications. Remove the custom ad blocker rule(s) and the page will load as expected.