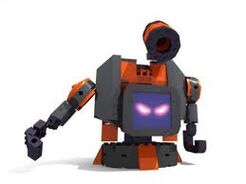 Training Mechs were pre-alpha enemy robots. There were planned to appear in both Gnarled Forest and Forbidden Valley. The two variations were the Ninja Training Mech and the Pirate Training Mech.
Early pictures of the mechs were used in an image in the creation lab.
A full design and a high quality image were realeased to LEGO Club subscribers with a code given out in an email.